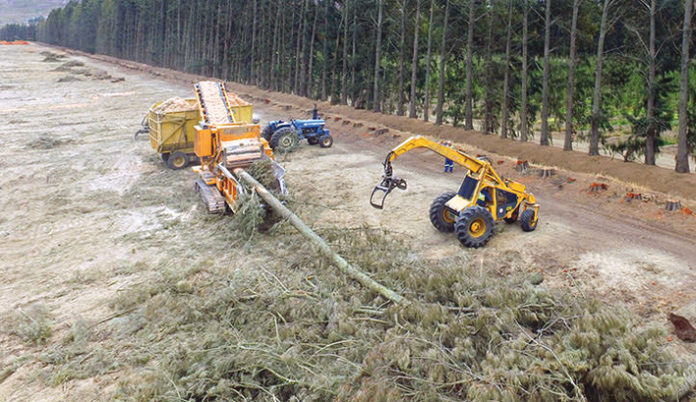 Since 2004, Africa Biomass Company has been at the forefront of the development of biomass processing such as wood chips, biofuels and more in Southern Africa.
Contracting
Orchard
Windbreak recycling
River rehabilitation
Recycling of waste wood
Tree (orchard) replanting (Eastern Cape)
Mulch spreading
Land clearing and land preparation (Môreson)
Woodchip mulch and biomass sales
Bandit agency (Southern Africa)
Dezzi equipment (Western Cape)
Workshop and field services
Part sales
Manufacturing
Training facilities
Orchard and windbreak recycling
With the use of excavators with specialised attachments and three-wheel loggers, old orchards can be removed from root to top and fed into a horizontal grinder.
The horizontal grinder processes the waste wood according to specifications discussed and agreed upon with the landowner or project manager. Processing of waste wood into a viable product, that if applied correctly, could have a 30% increase in water conservation as well as many other advantages.

Land clearing services
Africa Biomass Company is an expert at land clearing. We have an extensive range of highly specialised wood recycling machinery that will do the job quickly and efficiently.
Tree shears which cut and stack trees of up to 550 mm in diameter
Loggers to handle the timber rapidly and effectively
Well-trained teams of chainsaw operators.
Mulch and biofuel sales
Woodchip according to specification, collected in mass trailers or in bags and transported to end user, where it can be used as woochip mulch or biofuel.
Wood chips best practice
It is excellent practice to apply compost and mulch in existing, as well as newly established orchards.
The best results are obtained by spreading compost in the orchards or vineyards before covering it with mulch. Wood chips can also be used as a base to produce compost.
You can buy or rent these unique, patented, designed mulch spreaders from ABC.
Massive water savings
In 2017 Africa Biomass Company was involved in many projects such as the removal of invasive eucalyptus trees in the Breede River and Berg River systems.
The removal and recycling of these alien trees, old or unwanted orchards, vineyards or windbreaks can be used as mulch which are spread in new and old orchards and vineyards. This has led to a massive water saving equal to the water usage of 50 000 households for one year.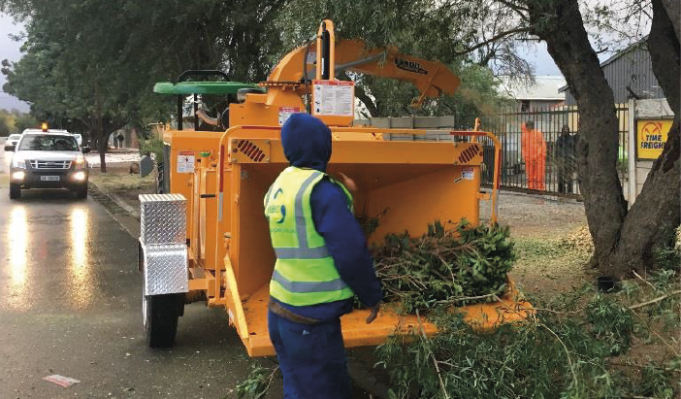 Workshop and field services
With an intimate understanding of the operational challenges of wood recycling in South Africa, we established state-of-the-art facilities to service, repair and rebuild wood chipping equipment of any make and size.
This facility is manned by a remarkable team of experienced and suitably qualified engineers, technicians and artisans.
An equally remarkable team of field service technicians delivers repairs, maintenance and spares to your site to optimise uptime and efficiency.
Parts
We have been widely commended as the company in South Africa stocking the largest range of industry-related spare parts.
Optimal production and uptime require quality components when needed. Understanding the industry through experience sets us apart from other suppliers.
Delivering quality components on time is essential for running a successful operation. Our more than 2 500 line items is made up of quality components sourced worldwide to meet requirements of our customers and our own fleet.
Manufacturing
Our legacy of innovation has been built on more than 80 000 hours of operational experience. This enabled us to develop and adapt machines for waste wood recycling in South Africa which truly adds value to the customer's operation.
A wide range of wood chipping, grinding and spreading equipment is manufactured locally to specification, as required for South African conditions.
Bandit Industries, Inc
Not only has Africa Biomass Company built up a substantial fleet of Bandit wood chippers for their own use as part of our wood recycling services we provide, but also offers a whole range of Bandit wood chippers to clients who want to invest in the Bandit range.
We are privileged to serve our customers as the authorised dealer for Bandit Industries in Southern Africa.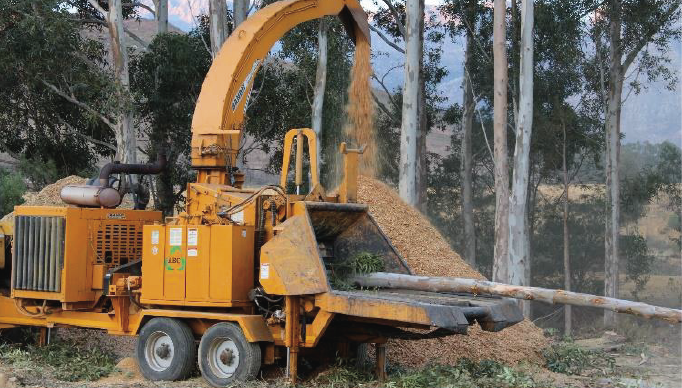 Bandit chippers are designed with quality, production and longevity in mind. Hand-fed chippers are mounted on custom-built, SABS-approved trailers. Owning a Bandit wood chipper will always put you in the front seat of reliable wood chipping operations.
In many cases, the Bandit wood chipper sets the benchmark for other brands in the wood chipping industry. We are ready to supply the right Bandit wood chipping solution with advice and aftercare to your doorstep.
Become an owner of a Bandit chipper
All existing and new customers are welcome to contact us if they want to become the owner of the top-class range of Bandit equipment. Bandit Industries have delivered successful recycling solutions to basically every corner of the planet.
A commitment to support
Africa Biomass Company is fully equipped and stocked to service and repair any Bandit machine anywhere in South Africa.
We own a fully-equipped parts warehouse (650 m²), manufacturing department as well as field services to ensure that parts are always readily available and our own, as well as our clients' Bandit wood chippers are not out of commission longer than they have to be.