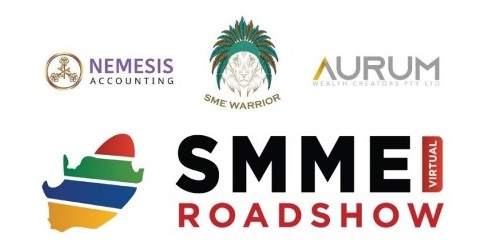 Since 2014, the SMME Roadshow has supported small business in South Africa. Following the unprecedented challenges of 2020, Global Africa Network will be relaunching the SMME Roadshow in a fully virtual, nationwide format.
Launch date: July 2021
The SMME Virtual Roadshow, brought to you by Global Africa Network Media with Nemesis Accounting, SME Warrior and Aurum Wealth Creators, takes the form of presentations and practical guidance from thought leaders and experts in their fields.
While presentations are pre-recorded for quality and convenience, presenters and their teams will be on hand to engage and interact with delegates. Delegates will also be able to network with other delegates.
Who should attend
All SMMEs requiring support and guidance on the following topics:
Access to funding
Access to markets
Business revival
Training and skills development
Compliance and regulatory
Technology support
Running a business
Each of South Africa's nine provinces will be represented at the Roadshow, and will showcase incentives, services and opportunities available to SMMEs in the province.

Sponsorship Opportunities
Established in 2003, Global Africa Network Media (GAN) is an established authority on business development in South Africa's nine provinces.

GAN's online products include its well-established B2B portal and its monthly business and investment e-newsletters, with a reach of over 53 000 subscribers.
Its stable of provincially focused B2B print annuals was launched in 2005 and each of the nine titles has been utilised by all levels of government, parastatals, corporates, and national and provincial businesses.
This uniquely provincial and local focus has established GAN as a specialist in small and developing business, and the company is a trusted partner of business chambers and other representatives of organised business in each province.
For information on sponsorship opportunities, email info@gan.co.za