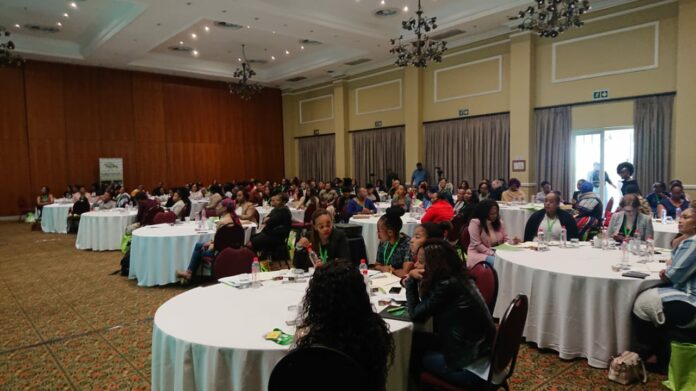 Intelligence Transfer Centre (ITC) will be hosting the 14th Annual Leadership for Women in Government & SOE's Conference and Career Expo set to take place on the 27th, 28th & 29th July 2022 at The Indaba Hotel, Fourways.
This conference is the perfect platform to celebrate women who have been at the helm in ensuring seamless service delivery within their respective departments. Special focus will highlight the importance of forging reputable community development initiatives that can assist community development.
Some of the confirmed speaker departments include Department of Tourism, Public Protector of South Africa, SALGA, KZN Department of Treasury, Mangaung Metro Municipality, SAPS, Transnet, Eskom and City of Tshwane, Gauteng Department of Roads & Transport, just to name a few.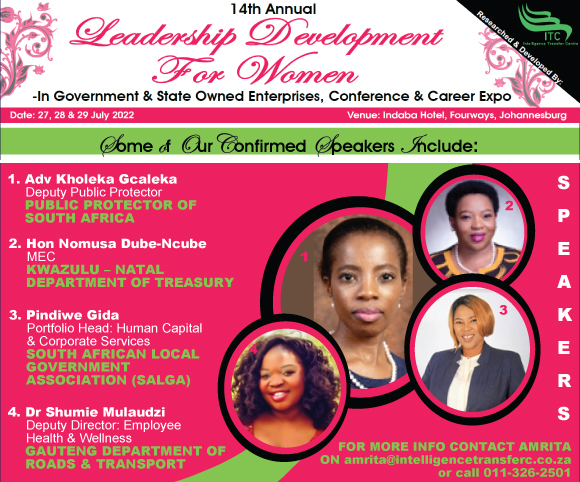 Pertinent issues to be discussed include:
Implementing diversity and inclusion for a transformed workplace that is none discriminatory,
establishment of empowerment mechanisms to yield a balanced support for both boys and girl,
unpacking the newly passed GBV legislation for the workplace and society as a whole,
the Macro-economic Impact of Gender-blind policies and practices,
protecting your Mental Health to ensure it does not impact your work performance particularly in crisis times, and
protecting yourself in Cyber Space, just to mention a few.
To register for the conference contact Amrita on 0113262501, e-mail amrita@intelligencetransferc.co.za or visit www.intelligencetransferc.co.za
ITC is a leading South African conferencing and training company headquartered in Johannesburg, and has regional offices in Durban and Namibia, with the key function of offering thoroughly researched conferences for various industries.
ITC started its operations 2007 and executes over 42 conferences and workshops annually, both local and international. ITC is MICT SETA accredited and a level 1 B-BBEE company which believes in closing the knowledge gap across the Public and Private sector through creating platforms for people to gather and exchange ideas in the form of conferences or in-house training. The organisation prides itself on sharing international best practice and every conference connects delegates with international leaders and leading brands within their respective markets.
Our events present your brand with the opportunity to access your direct target market and to interact with industry professionals. We understand the importance of lead generation and our conferences will bring you a host of compatible customers in your journey of building brand loyalty.
To register for the conference contact Amrita on 0113262501, e-mail amrita@intelligencetransferc.co.za or visit www.intelligencetransferc.co.za