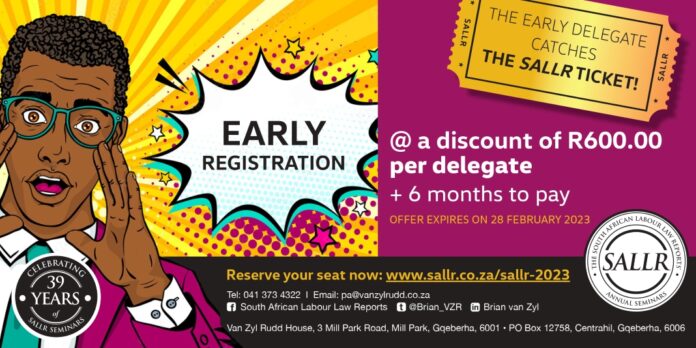 Every year the South African Labour Law Reports (SALLR) team deals with the latest developments in Labour Law, Human Resources and Employee Relations by providing delegates with insight and solutions to deal with 'slip and trip' issues – and 2023 will be no exception.
This is an early opportunity for delegates to:
Reserve their places in advance at the upcoming South African Labour Law Reports' 39th annual seminar
Qualify for an amazing discount
Utilise the benefit of delaying payment for 6 months
Who should attend?
Employee relations practitioners
Human resources practitioners
CCMA and bargaining council commissioners
Conciliators and arbitrators
Advocates, attorneys and candidate attorneys
Government officials
Trade unions
Employers' organisations
Academics
Students
Panel of experts
Our panel of experts, comprising Adv. Feroze Boda SC, Shamima Gaibie, Amogelang Makuwa and Prinoleen Naidoo will provide answers to your burning questions during live streaming sessions.
Early registration @ a discount of R600.00 per delegate + 6 months to pay
Offer expires on 28 February 2023
Find out more or reserve your seat here: www.sallr.co.za/sallr-2023