Mashweu Matsiela completed his undergraduate studies in Biological Sciences at the University of Stirling in Scotland. He holds an MBA qualification from the University of Pretoria, including a Post Graduate Diploma in Company Direction (GIMT) and an Executive Development Programme (GIBS) which he obtained with distinction. Within the IDC he has been account manager for Metals SBU, Agro-Industries and Franchising SBU. He was also Senior Post Investment Associate (PIMD) and Manager: Equity Investments. He was Regional Manager (Mpumalanga) until 2019.
---
Do you have offices outside Polokwane?
In more remote areas of Lephalale, the Vhembe district or Burgersfort, we work through our sister company, the Small Enterprise Development Agency (Seda).
What are the main sectors that you operate in?
Agriculture, mining and tourism.
Are there limits to how big a project can be?
Overall, the IDC is not limited by the size of projects. However, as the Small Business Finance and Regions (SBF Limpopo), we have a threshold of R20-million. Accordingly, we mainly look at providing funding support for SMEs. When bigger deals come in, we work together with a sector-specific unit at head office, for example, the Tourism Unit, which might support something like a hotel project in northern Limpopo.
Are you able to tell me more about that tourism project?
We are busy with the initial assessment of a hotel in Musina, a development node because of mining activities there. De Beers has started producing from their revamped mine, there is a coal mine there and it is the home of the Musina-Makhado SEZ. The project came through the Venetia Mine Enterprise Development Programme (EDP). The entrepreneur was previously managing a mine accommodation facility; now she wants to put up a boutique hotel.
Would this project fall under SME Connect?
Indeed. SME Connect is a collaborative initiative which is anchored on three levers. Marketing is the apex of a triangle, with the other legs being finance and business support.
A corporate will develop people who are providing services under its Supplier Development Programme (SDP) or they will help develop a business through the EDP. Through SME Connect, the IDC can plug in any leg of the triangle that needs support and the corporates can do the same. The main thing we ask from the corporates is for them to provide the market at the apex of the triangle.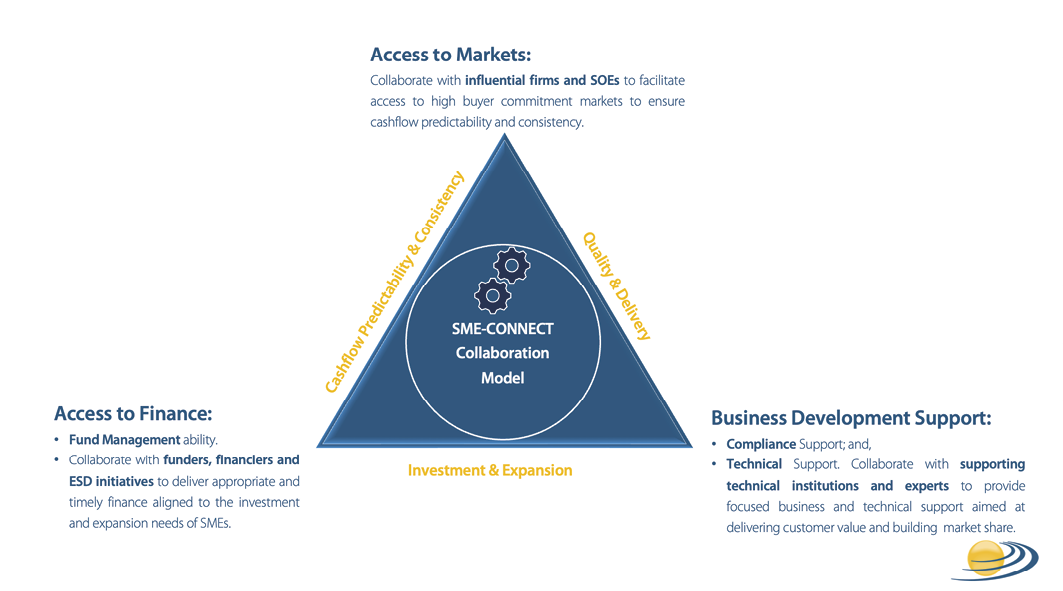 Like an offtake agreement?
Exactly. On the back of that contract with the corporate we can be comfortable as a funder because the small business has a guaranteed market. It is tangible, it is not a gamble in the dark.
It is a collaborative model in that the IDC provides funding and business support and the corporate provides the market. However, because it is also interactive the corporates will sometimes have business support or funding available from their own ESD funds so we are able to exploit the synergies between us.
Does the IDC mainly do loans or does it take equity in ventures in which it invests?
The IDC mainly provides loans to businesses. The equity is an exception but since we are a development institution, we would from time to time assist the client in terms of cash flow. With a BEE, youth or women project we might give a loan for a portion of the amount and take another portion of the amount as equity. In the end, when the business is on its feet, then the IDC would be repaid the equity portion. That makes it more manageable in terms of the cash flow of the business.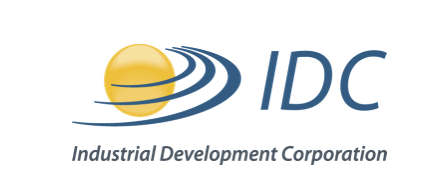 The IDC takes equity in strategic projects, so for example in Sasol or Columbus Stainless, the steel company. In Limpopo we have board representation at Westfalia and a stake in Merensky Timber.
These stakes in strategic projects ensure that the IDC remains sustainable. When these companies pay dividends, it goes back into the pot and then we can continue to fund new projects.
Is beneficiation of Limpopo's resources a priority?
That's our space. We want more value-add projects so we will fund any processing relating to agriculture. For instance, macadamia and avocado processing, de-husking, packaging and cold rooms – we will fund all of those things. There's a mining project that we're looking at up north which involves the mining of gold and it will be processed up to a level.
Which sector has recovered best after Covid?
Tourism went from the extreme of being hit hard to now having quite a big recovery. Mining is the other one. Coincidentally the accommodation space in Musina is driven mainly by the mining activities in the area because when people fly in, they want to stay somewhere. New products are coming to market as in the example I gave. When I had a meeting in Burgersfort recently, I struggled for accommodation. The closest I could find was in Mashishing so there is a need. The IDC has had an approach about a hotel investment in Burgersfort. We have also been approached by a mine through SME Connect relating to two lodges that want to expand.
In last year's journal we had a story on the four-star Premier Inn being built in Thohoyandou.
Indeed. That project is well advanced. IDC teams are in that area now because of a glamping project for which we have approved funding. They want people to camp near the river; it is something for the adventurous tourist.
Please tell us about programmes that empower youth, women and black-owned businesses.
That is really something that defines us. We are there for the transformation of the economy in terms of bringing on previously disadvantaged people, mainly youth, women and black industrialists in general and people with disabilities. Some of our products are earmarked for that purpose. We have the Youth Fund where the IDC has put aside R1-billion and loans are priced at prime minus three. That hotel in Musina is 100% women owned. We really pride ourselves on this sort of thing.
---