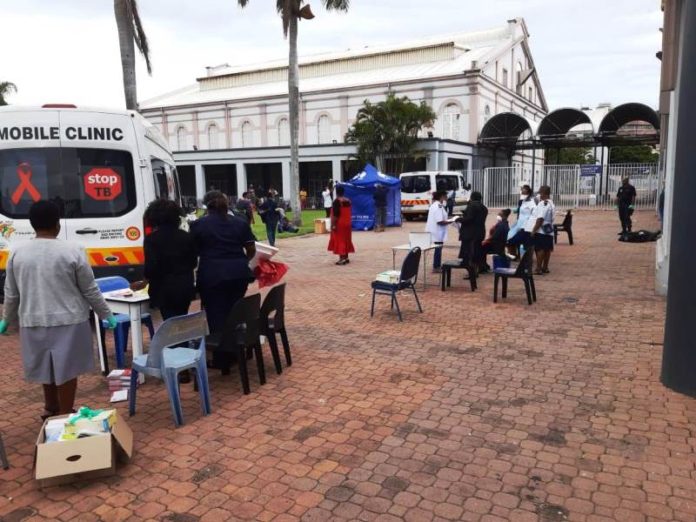 The Durban Exhibition Centre (DEC) has been utilised as the Reception and Screening Centre for the Ethekwini Municipality's response to sheltering the homeless during the national lockdown announced by President Ramaphosa on the 23rd March.
The eThekwini Task Team on Homelessness identified various sites for screening and accommodating the City's itinerant citizens before the lockdown came into effect on the 26th March. The task team is headed up by Deputy Mayor Belinda Scott and Chaired by Raymond Perrier, Director of the Denis Hurley Centre.
The DEC became the central point where homeless people could gather and receive the assistance which the Task Team was providing. The process included receiving meals, blankets, hygiene packs, and be assessed and screened by professionals from the Department of Health and Department of Social Development.
Durban ICC Chief Executive Officer, Lindiwe Rakharebe noted, "The Durban ICC is committed to playing its part in and offering as much support as we can. Initially one-thousand people were expected to be screened at the centre; however we were able to help 1,600 people over the course of the first three days."
Following the assessment and screening, each person received a wrist band and transport to the various venues provided by the City where they would be housed and fed for the duration of the national lockdown. These venues include the Denis Hurley Centre, the YMCA, Moses Mabhida Stadium, and the Strollers facility amongst others.
The Task Team has enlisted the help of NGOs and municipally-funded caterers to provide meals to all residents throughout the lockdown period. Security and health-care staff are in attendance at each of the various venues as well.