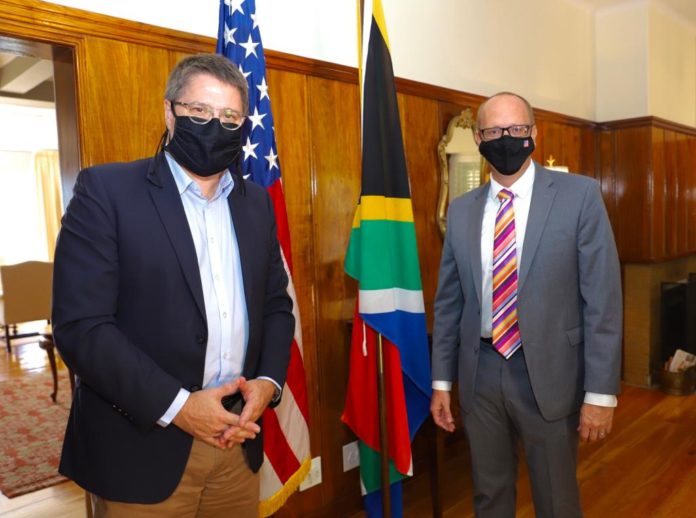 On 5 February 2021, the U.S. Consulate General in Cape Town and the Western Cape government jointly launched a Trade and Investment Promotion Partnership which will build on the momentum of the existing economic relationship to promote shared prosperity and economic development.
At the launch event, Western Cape Minister of Finance and Economic Opportunities, David Maynier, and U.S. Acting Consul General in Cape Town, Will Stevens, pledged to deepen cooperation and coordination to promote and increase bilateral trade and investment through various engagements, events, and high-level interactions.
The partnership will leverage the decades of innovative trade and investment promotion through the Western Cape's agencies such as Wesgro, and the services, resources, and expertise of 17 U.S. government agencies to support U.S. and African businesses, and the African Growth and Opportunity Act (AGOA), which allows duty-free exports of more than 6,500 goods from Africa to the United States.
Speaking at the launch, Minister Maynier said, "The United States is a key tourism and business market for the Western Cape, and the biggest source of foreign direct investment for the Western Cape, so I am excited about the potential for further investment and economic growth for both regions through the Trade and Investment Promotion Partnership."
Acting Consul General Stevens said, "The trade and investment promotion partnership builds on our strong relationship with the Western Cape and the U.S. government's commitment to increasing our already robust trade and investment. The partnership also reflects the U.S. private sector's increasing interest in investing in the Western Cape and the potential for further expanding bilateral trade."
The economic relationship between the United States and the Western Cape is robust and growing. The Western Cape's diverse and dynamic economy attracts investment from U.S. companies—big and small—and the United States has been the top foreign direct investor in the Western Cape for many years. U.S. companies have invested in the province, have created tens of thousands of jobs, offer training and skills development, and support local communities through outreach and humanitarian programs in the Western Cape.
Bilateral trade between the United States and the Western Cape is increasing. Over the last 20 years, trade has risen by 335 percent and is currently valued at approximately 17 billion Rand annually. In 2020, bilateral trade grew despite the COVID-19 pandemic. This growth included a 68 percent increase in citrus exports and a 78 percent increase in wine exports to the United States. Hundreds of companies in the Western Cape export to the United States as part of this reciprocal trade. Western Cape companies are also setting up operations in the United States or forming commercial partnerships with U.S. companies.
Download the United States and Western Cape Trade and Investment Partnership Fact Sheet