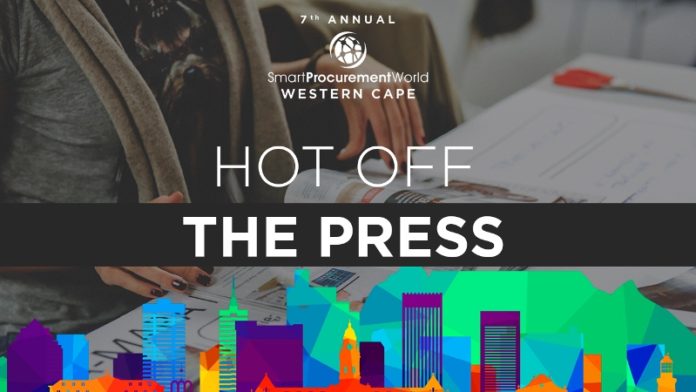 In reaction to the lockdown in South Africa, Smart Procurement World managed the incredible feat of producing the first-ever online Smart Procurement World regional event, in less than two months.
The conference was aimed at bringing critical information on the procurement and supply chain sectors to a variety of private and public sector delegates, as well as representatives from local SMMEs and other neighbouring countries such as Kenya and Tanzania. Held on 19 and 20 May, the event attracted over 160 delegates and was deemed a resounding success by all stakeholders, delegates and sponsors.
Debbie Tagg (COO of event organisers Smart Procurement) said that the keynote address by Andy Potter (Business Development Director, EMEA, Ansarada) – 'Fixing the Future of Procurement' – was a clear reinforcement of the key messages for professionals at this time. "Procurement needs to innovate and take advantage of technology to face the rapid change of pace in business, now more than ever. The fact is that good organisations not only need talented people but also 'smart' tools to be more productive and to get better results."
The event, which welcomed Oracle as a Strategic Partner, provided a wealth of information for the delegates through a number of thought-provoking presentations from international and local (South African) speakers.
Dennis Mlambo, a Former Group Supply Chain Exec at Denel gave an insightful and engaging presentation about being a Future Thinker and the way forward for SOEs and how they can perform better.
Rob Van Den Wijngaard, Director of the Financial Shared Services Centre at Leiden University, joined from the Netherlands. He talked about shifting the dial in procurement and redesigning procurement processes to be more end-to-end. "We have seen a shift in procurement over the years and one needs to create a guiding vision and goal plan of where you are now as an organisation and where you want to be. Customer-orientated digital transformation, the optimisation of operations and service delivery, all need to be updated to the new way of working," Rob Van den Wijngaard.
Barloworld's Sydney Tshibubudze shared COVID-19 business resilience intervention tactics, that addressed cutting costs and managing cash flow, as well as reducing supplier risks.
Smart Procurement's online platform was also able to facilitate interactive panel and breakaways sessions with robust discussion. These included a range of topics targeted at niche procurement sectors, allowing for discussion time and a huge amount of engagement.
The programme covered everything from Enhancing the Impact of Procurement on Job Creation, Investing in Cloud Solutions and Re-skilling, to Collaborating with partners and even competitors to overcome challenges. Technology could not be overlooked in the COVID-19 crisis, the Technology Zone Panel Discussion was very insightful and demonstrated how different organisations are maximising procurement during this time to mitigate risk. What was highlighted, is that the public sector in South Africa has a lot of work to do to catch up in this area, but there are initiatives underway to do so.
"As the nation went into the lockdown and our economy essentially ground to a halt, the City of Cape Town has been hard at work responding to this crisis. Our focus is on supporting SMMEs, ensuring business retention and even expansion, by taking advantage of the opportunities every crisis presents. By working together, and by supporting SMMEs through initiatives like the Smart Procurement programme we can find ways through this crisis," said Alderman James Vos, Mayoral Committee Member, City of Cape Town.
For more information on the upcoming series of Smart Procurement World events for 2020 please visit the website at www.smartprocurementworld.com