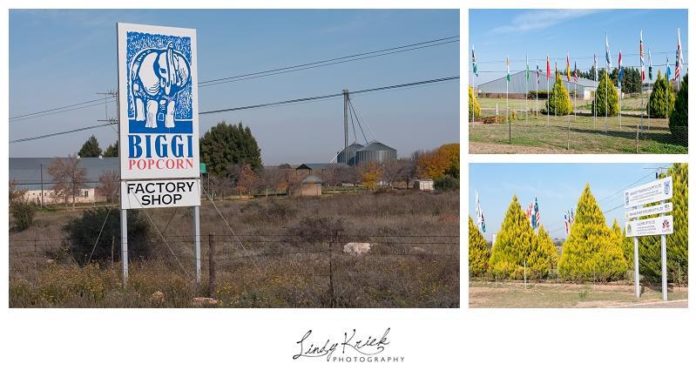 Company profile: Biggi Brands
Since its inception in 1991, the company has grown to reach record sales of c. 16,100 metric tons in the last financial year, mainly due to a substantial recent investment in production capacity and technology.
Overview
Biggi Brands was founded in 1991 and is situated in Hopetown, Northern Cape.
The majority of our popcorn is produced by nine contracted farmers, who mostly farm on the fertile banks of the Orange River, which is free from industrial waste. Our popcorn is produced in the heart of South Africa's center pivot irrigation region.
Main markets
Approximately 70% of our popcorn is exported each year.
In South Africa, we supply to both of the major cinema chains in South Africa as well as independent cinemas.
We have been the exclusive agents for Gold Medal catering equipment since 2003.
Biggi Brands sold approx. 16,100 metric tons of popcorn during its 2019 financial year, which represents an increase of 3,500 metric tons (28%) compared to the 2018 financial year. This volume comprised 14,500 metric tons of Butterfly, and 1,600 metric tons of Mushroom.
Biggi Brands currently exports bulk popcorn to 10-12 countries across the world situated primarily in Europe and Asia-Pacific and the Middle East. We have exported to 15 countries in total over the course of our history.
With our warehouses in Midrand (Gauteng), Durban, Cape Town and Port Elizabeth, Biggi Brands delivers weekly, according to our customers' needs. For industrial clients, we offer to deliver directly to their production premises.
South African customers
Our focus is to supply popcorn that produces large popped kernels. We work closely with our customers to understand their product and production needs, and have a record of consistently meeting their specifications.
Mushroom popcorn
Used as a coated product like caramel, chocolate, etc. In the ready-to-eat market, therefore it is important that the popcorn should be resistant to breaking during the production process.
(We have noticed an increased demand for mushroom popcorn in recent years. Biggi can offer mushroom varieties which meet industrial demands for coating.)
Butterfly popcorn
Named for its "wings", it is prized for its high expansion ratio when popped. Butterfly is predominantly sold in cinemas, which sell by volume. (We focus on expansion per kernel, kernel count and firmness of wings, to ensure that popped kernels are large and do not break easily.)
We sell our bulk popcorn under our own brand and also package for customers in their branded bags. We also produce a range of microwave popcorn, which we select from our best popcorn to achieve the largest popped kernel and least number of un-popped kernels.
Contact Biggi Brands:
To discuss potential trade opportunities, please contact the company here:
[contact-form-7 id="1320″ title="Northern Cape Department of Economic Development and Tourism"]