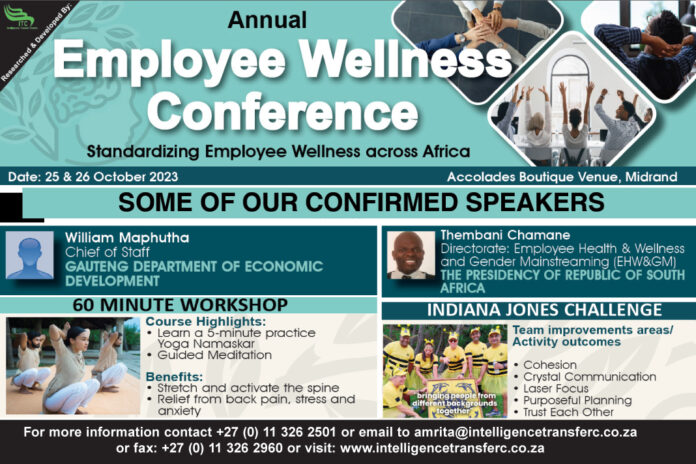 Intelligence Transfer Centre (ITC) will be hosting the 1st Annual Employee Wellness Conference which will be held on the 25th & 26th October 2023 at Accolades Boutique Venue, Midrand.
The main focus of this conference is Employee Wellness as a multi-faceted concept referring to the overall well-being, environment and health of employees in the workplace.
Attendees should brace themselves for a conference that will highlight the importance of overall wellness for a healthy work environment, how this can drive productivity and the benefits of having happy employees, as well as discussing ways to provide a better work environment for employee's mental health, wellness and general health for better productivity, job satisfaction and career growth, employee retention, diversity, absenteeism, sexual harassment, occupational safety to name a few.
Some of the confirmed speaker departments and entities include, THE PRESIDENCY OF REPUBLIC OF SOUTH AFRICA, GAUTENG DEPARTMENT OF ECONOMIC DEVELOPMENT, GAUTENG DEPARTMENT OF INFRASTRUCTURE DEVELOPMENT, SOUTH AFRICAN DEPRESSION AND ANXIETY GROUP, MOMENTUM CORPORATE, BANKMED MEDICAL SCHEME, just to name a few.
To register for the conference, contact Amrita on 0113262501, e-mail amrita@intelligencetransferc.co.za or visit www.intelligencetransferc.co.za
---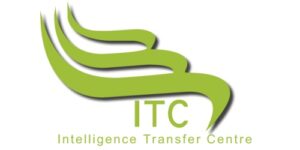 Intelligence Transfer Centre (ITC) is a leading South African conferencing and training company headquartered in Johannesburg, and has regional offices in Durban and Namibia, with the key function of offering thoroughly researched conferences for various industries.
ITC started its operations 2007 and executes over 42 conferences and workshops annually, both local and international. ITC is MICT SETA accredited and a level 1 B-BBEE company which believes in closing the knowledge gap across the Public and Private sector through creating platforms for people to gather and exchange ideas in the form of conferences or in-house training. The organisation prides itself on sharing international best practices and every conference connects delegates with international leaders and leading brands within their respective markets.
Our events present your brand with the opportunity to access your direct target market and to interact with industry professionals. We understand the importance of lead generation and our conferences will bring you a host of compatible customers in your journey of building brand loyalty.