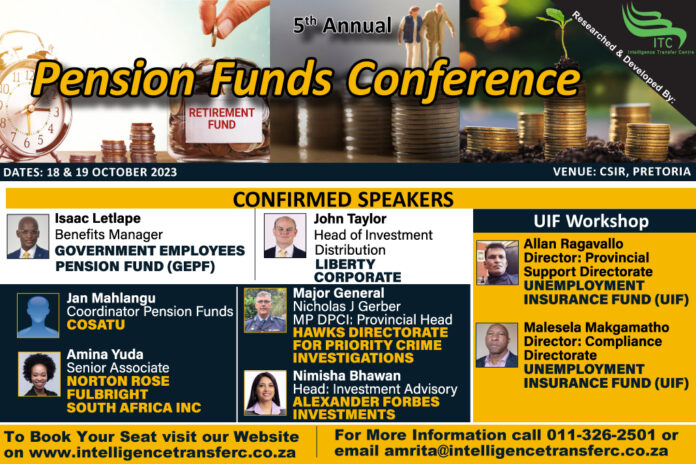 Intelligence Transfer Centre (ITC) will be hosting the 5th Annual Pension Funds Conference set to take place on the 18th & 19th October 2023 at CSIR, Pretoria. The conference objective is to deliberate on the pertinent issues relating to the future of Employees Pension in the face of the 2-pot system that will be coming into effect in 2024.
"The Congress of South African Trade Unions (COSATU) welcomes the release of the Draft Revenue Laws Amendment Bill and the Draft Revenue Administration and Pension Laws Amendment Bill by Treasury. These progressive Bills provide for all workers, public and private, early access to their pension funds as per the engagements and agreements between Treasury and COSATU." – Early access to their pension funds will provide relief – COSATU – POLITICS | Politicsweb
Confirmed speaker organisations include GOVERNMENT EMPLOYEES PENSION FUND (GEPF), UNEMPLOYMENT INSURANCE FUND (UIF), ALEXANDER FORBES INVESTMENTS, LIMPOPO ECONOMIC DEVELOPMENT, ENVIRONMENT & TOURISM, COSATU, HAWKS DIRECTORATE FOR PRIORITY CRIME INVESTIGATIONS, NORTON ROSE FULBRIGHT SOUTH AFRICA INC, FASKEN, LIBERTY CORPORATE, EVEREST WEALTH
Pertinent issues to be discussed include:
The Impact of the Two-Pot Retirement System on the Government Employees Pension Fund and its members, 
the implementation of new Legislative changes relating to pensions and the "two-pot" system, 
Pension Funds investment options,
what to consider when investing your pension,
providing insight into the vital aspects to consider when designing employee benefit packages,
addressing challenges arising due to unclaimed pension funds,
legal enforcement tools to counter embezzlement of retirement funds,
explaining all UIF Benefits,
explaining Regulation 28 of the Pension Funds Act in relation to investment portfolio management,
addressing the implications for long-term investments in relation to the influx of members opting to access a portion of their pension, and
demystifying the calculating tax on employees' pensions.
To register for the conference, contact Amrita on 0113262501, e-mail amrita@intelligencetransferc.co.za or visit www.intelligencetransferc.co.za
---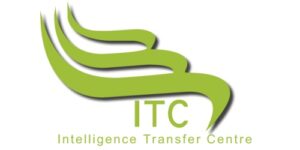 ITC is a leading South African conferencing and training company headquartered in Johannesburg, and has regional offices in Durban and Namibia, with the key function of offering thoroughly researched conferences for various industries.
ITC started its operations 2007 and executes over 42 conferences and workshops annually, both local and international. ITC is MICT SETA accredited and a level 1 B-BBEE company which believes in closing the knowledge gap across the Public and Private sector through creating platforms for people to gather and exchange ideas in the form of conferences or in-house training. The organisation prides itself on sharing international best practice and every conference connects delegates with international leaders and leading brands within their respective markets.
Our events present your brand with the opportunity to access your direct target market and to interact with industry professionals. We understand the importance of lead generation and our conferences will bring you a host of compatible customers in your journey of building brand loyalty.