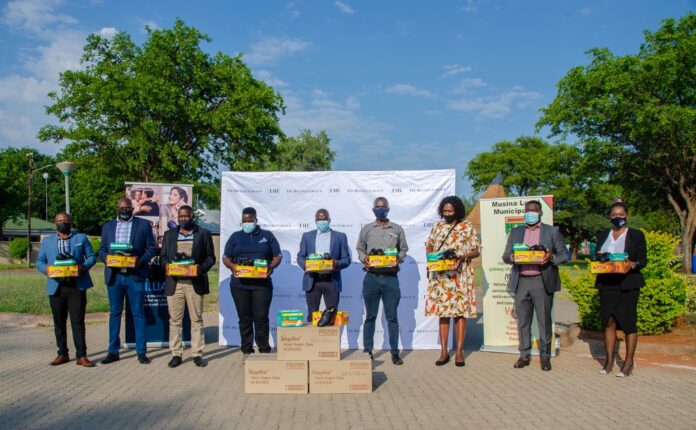 The donation is one of many corporate social investment programme initiatives undertaken by the mine, with the aim to improve the livelihoods of vulnerable people in the communities we operate, and comes at a time where the need for relief has increased significantly due to Covid-19 pandemic-induced economic challenges.
In accepting the donation on behalf of the schools within the Musina area, Mayor of the Musina Local Municipality, Cllr Nkhanedzeni Godfrey Mawela said the donation could not have come at a better time as many parents from disadvantaged backgrounds had been struggling to afford essential items for their children in the run-up to the start of the new school year.
"I would like to express my gratitude to Venetia Mine for the wonderful support that we continuously receive. This is not the only initiative that receives support of the mine. We really appreciate the support that we are getting, especially when it comes to the education of our kids. The 150 pairs of school shoes will address some of the challenges that kids are facing in the communities," said Cllr Mawela.
Musina High School Principal, Abraham Legavha thanked Venetia Mine for the generous donation. "Children who lack proper school shoes have a greater risk of being exposed to injuries, especially in cold and rainy weather. Some of our learners come from very poor backgrounds. Owning a new pair of shoes will motivate them because we know that it is difficult to concentrate on schoolwork when basic necessities are not fulfilled". This donation shows that Venetia Mine cares about the wellbeing of our children," said Legavha.
Cllr Daniel Mosena, Chairperson of the Economic Development and Planning for Blouberg Local Municipality, said: "As the municipality, we appreciate this good initiative. Our goal is to work hand in hand with the De Beers Group and ensure that supporting the community is a priority.  We would like to thank De Beers for the school shoes that were donated to the Blouberg Local Municipality. We will ensure that the shoes are distributed to children who come from economically depressed families during our back to school campaign".
Phillip Tshivhundo, Security Manager, Venetia Mine said: "Our campaign focuses on providing sanitary pads and school shoes to ensure that children in our local communities stay in school. We need to take care of our communities in order for the mine to prosper. The children who benefit from this campaign will share their skills and make valuable contributions to the mining industry one day".