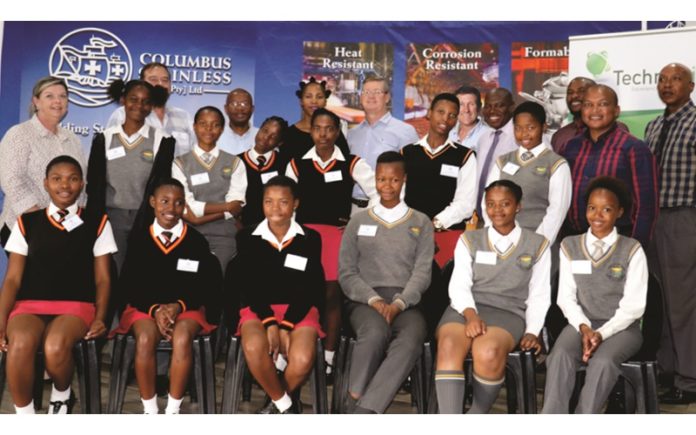 Columbus Stainless has on 11 March 2020 launched the TechnoGirl programme which is set to benefit twelve students from non-fee paying Quintile 1 schools namely; Ekwazini Secondary School in Mhluzi and Phumelela Secondary School in Extension 24, Middelburg.
The event was attended by Columbus Executive Members and CEO Johan Strydom, Cllr Johan Matshiane, MMC for Social, Cultural & Sports Service at Steve Tshwete Local Municipality, Mr Jabu Sindane – Chief of Staff in the Mayor's Office and TechnoGirl Programme Manager Andolene Hofmeyr.
This heralded the start of a 3-year structured programme, which will include job shadowing, mentoring and soft skills training. Columbus as the host employer will coordinate the programme, as well as the guided plant tours. The candidates will also be exposed to career guidance which will identify their career interest.
The TechnoGirl programme is a flagship programme of the Department of Women, Youth and Persons with Disability in partnership with United Nations Children's Fund (UNICEF), Department of Basic Education (DBE), Department of Communications and Digital Technologies, State Information Technology Agency (SITA) and the TechnoGirl Trust, which have benefitted many girls across all nine provinces of South Africa to date.
The programme is premised on the understanding that structured exposure to the workplace can significantly contribute towards motivating disadvantaged girls to take up careers that are in demand in the economy and where women are under-represented.
Columbus Stainless, having been awarded the Factory of the Year Award in the category of Large Scale Manufacturing in 2019, will be exposing the learners to International Industry Standards.
Columbus Stainless will afford the selected girls an opportunity during the three consecutive school holidays (autumn, winter and spring), for which they will receive work place exposure, allowance and mentoring session on site for three years. At the end of the programme, the girls will go onto the alumni association where additional support and guidance will be provided to the girls who pursue higher education studies, as well as to develop their leadership skills and serve as role models to future participants.