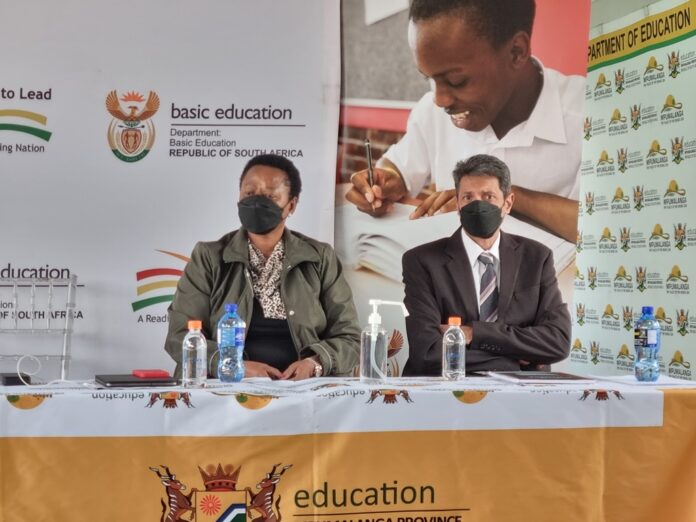 Steinmüller Africa recently sponsored the refurbishment of Vukanini Primary School, neighbouring the company's Bethal-based facility. The official handover, attended by one of Steinmüller Africa Directors, Mohamed Khan, took place on 8 of April 2022.
Steinmüller Africa provided project management and financial support for the initiative, extensively sub-contracting local businesses for the much-needed refurbishment of the school's kitchen and 12 classrooms. Renovations included interior painting, the removal and replacement of tiling, upgrading of electrical systems. Installations of shelves, a water pump station and a 5.5kVA solar photovoltaic system was carried out. Furthermore, carports of 12 m x 35 m were erected in the school's parking, and an accompanying pavement was built.
"We are proud to have participated in the refurbishment of the school to uplift and give back to the Mpumalanga province. The school's 850 students are now able to learn in a renovated and safe environment. By investing in schools and their students, we invest in the leaders of tomorrow and the future of South Africa," says Khan.
The opening included the attendance of South Africa's Deputy Minister of Education, Honorable Reginah Mhaule, Provincial and District Officials, the school governing body, and members of the community.
"Steinmüller Africa strives to extend a helping hand in developing communities it operates in to ensure a secured future for the children that reside in these communities. One of our company values is "we care" – we care about our business, our employees and the wellbeing and development of communities in which we operate," says Khan.
For over 50 years, Steinmüller Africa has offered comprehensive expertise and project management in pipe bending, welding, manufacturing and maintenance for high-pressure, high-temperature heat exchange plants or applications in South Africa.