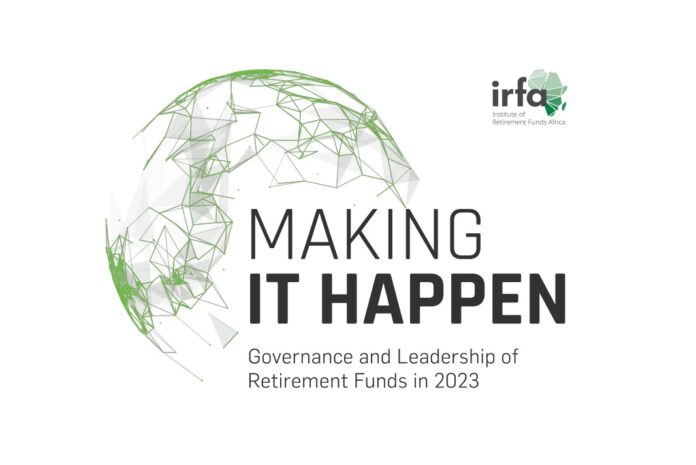 Conference Topic Summary:
"Making it Happen: Governance and Leadership of Retirement Funds in 2023"
The annual conference hosted by the Institute of Retirement Funds Africa (IRFA) from 17th – 19th September 2023 at the CTICC in Cape Town, will revolve around the theme of "Making it Happen: Governance and Leadership of Retirement Funds in 2023."
This theme underscores the significance of effective governance and leadership within the retirement sector, emphasising the need for strong management, ethical decision-making, and stakeholder engagement.
As retirement funds navigate significant regulatory and policy changes, they are increasingly called upon to play a pivotal role in socio-economic upliftment and development. The conference will provide a platform to explore the challenges and opportunities faced by retirement funds in fulfilling their legal and moral obligations while prioritizing the best interests of all stakeholders.
Key discussion points and topics for the conference may include:
1. Evolving Governance Frameworks: Understanding the changing landscape and enhancing governance practices.
Examining the latest developments in governance regulations and standards affecting retirement funds.
Exploring effective governance models and structures for retirement funds.
Addressing challenges and opportunities in implementing robust governance frameworks.
Leadership Strategies for Success: Fostering effective leadership in retirement funds.
2. Identifying key leadership qualities and competencies required for successful retirement fund management.
Promoting ethical leadership practices that align with stakeholders' interests.
Discussing strategies to attract and retain skilled leaders in the retirement sector.
Stakeholder Engagement and Accountability: Building trust and transparency through effective communication.
3. Exploring strategies to engage and communicate with diverse stakeholders, including pensioners, active members, employers, and regulators.
Establishing mechanisms for feedback, accountability, and reporting to stakeholders.
Promoting transparency in investment decisions and fund performance.
Ethical Decision-Making in Retirement Fund Management: Balancing financial objectives with moral responsibilities.
4. Examining ethical considerations in investment decision-making processes.
Integrating environmental, social, and governance (ESG) factors into retirement fund strategies.
Discussing the role of retirement funds in promoting responsible investment practices.
Risk Management and Resilience: Navigating uncertainties and ensuring fund sustainability.
5. Identifying key risks and challenges faced by retirement funds in a dynamic environment.
Discussing strategies for effective risk management, including portfolio diversification, hedging, and stress testing.
Enhancing resilience and adaptability to safeguard retirement funds and protect stakeholders' interests.
Through engaging speakers, panel discussions, workshops, and networking opportunities, the conference aims to provide retirement fund professionals with valuable insights and practical strategies to enhance governance and leadership practices.
By addressing the core theme of "Making it Happen: Governance and Leadership of Retirement Funds in 2023", the conference will equip attendees with the knowledge and tools necessary to navigate the evolving landscape and effectively steer retirement funds towards fulfilling their obligations and serving their stakeholders.
Find out more: