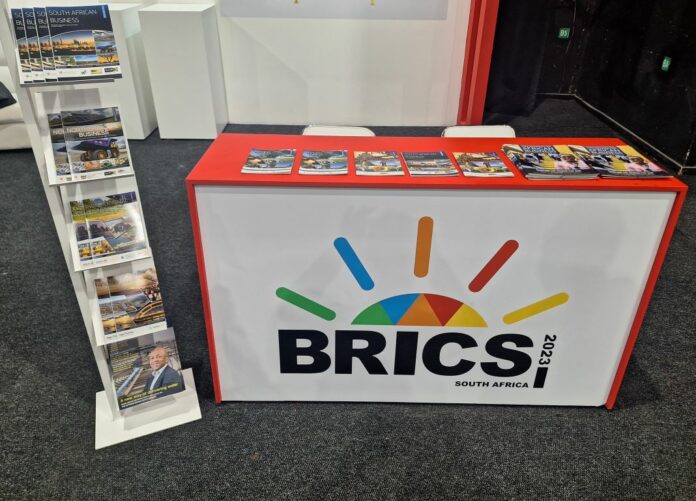 The 2023 BRICS Summit is the fifteenth instalment of this annual international relations conference, attended by representatives of the five member states: Brazil, Russia, India, China, and South Africa.
This year the event is hosted by South Africa under the theme: "BRICS and Africa: Partnership for Mutually Accelerated Growth, Sustainable Development and Inclusive Multilateralism".
The Department of Trade, Industry and Competition (dtic) and the South African BRICS Business Council also hosted the BRICS Trade Fair, from 19 – 23 August 2023. The fair was officially opened by the Minister of Trade, Industry and Competition, Ebrahim Patel, together with his BRICS counterparts.
Various publications produced by Global Africa Network Media was made available to visitors and delegates at the BRICS Trade Fair, which took place at Gallagher Convention Centre. Gabriel Venter, Manager: Investment Promotion at Global Africa Network, attended the Summit and spoke to representatives of Eastern Cape Development Corporation (ECDC), North West Development Corporation (NWDC) and Mpumalanga Economic Growth Agency (MEGA), who exhibited at the BRICS Trade Fair and showcased business and investment opportunities available in their respective regions.
These agencies and other government bodies tasked with economic development and promoting investment opportunities in South Africa, such as the Northern Cape Department of Economic Development and Tourism, Invest Durban and the Free State Development Corporation (FDC), as well as Special Economic Zones such as the East London IDZ, use the well-established publications of Global Africa Network Media on an annual basis to promote their regions to a local and international audience.
Copies of these provincial business and investment guides, namely the 2023/24 editions of Eastern Cape Business, North West Business and Mpumalanga Business as well as the Mpumalanga Investment Prospectus, were well received by visitors to the 2023 BRICS Summit and BRICS Trade Fair this year.
Other publications, such as the 2203/24 edition of Northern Cape Business, the Northern Cape Investment Prospectus, the 2023 editions of South African Business, Western Cape Business and KwaZulu-Natal Business, as well as the quarterly Opportunity magazine and the Journal of African Business, were welcome take-aways for this year's attendees.
About Global Africa Network Media
Founded in 2004, Global Africa Network Media (Pty) Ltd (GAN) is a business-to-business print and digital media company based in Cape Town, South Africa.
Global Africa Network Media produces annual and quarterly print journals. These include:
an annual title for each of South Africa's nine provinces
an annual national title
four quarterly titles
Explore these publications and find insights and opportunities relevant to your interests, visit https://www.globalafricanetwork.com/e-books/
To enquire about advertising opportunities, contact us today.
---