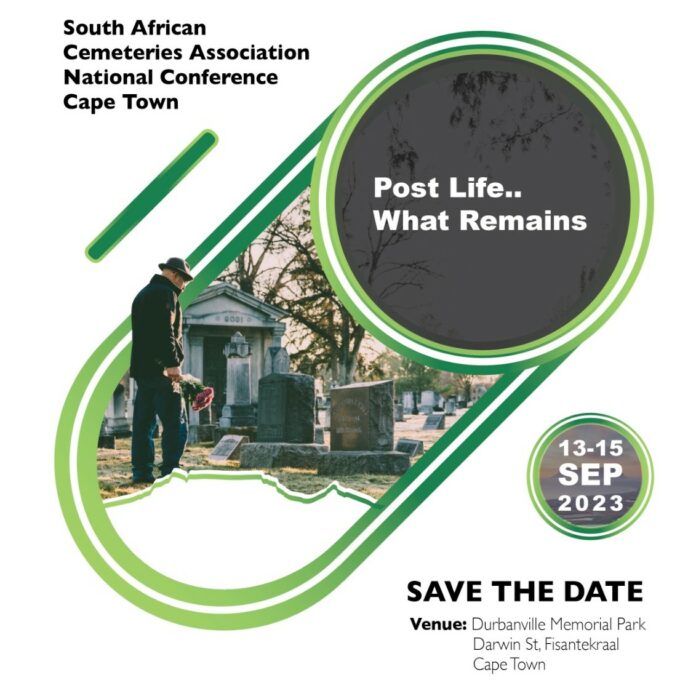 The South African Cemeteries Association (SACA) is all systems go for its highly anticipated biennial conference, set to take place from September 13th to 15th, 2023.
This remarkable event is organised in collaboration with esteemed partners SALGA (South African Local Government Association), AVBOB, and Calgro Memorial Parks.
Under the captivating theme "Post Life… What Remains", the conference promises to be a hub of profound discussions, knowledge sharing, and invaluable collaborations. With an expected attendance of 100 to 130 participants, including distinguished academic researchers, respected professionals, and government and industry representatives, this conference will delve into the intricate dimensions of the afterlife and its profound influence on both the environment and society.
The purpose of this conference is to unravel the far-reaching impact our departed loved ones have on both the environment and society. Furthermore, we seek to delve into the philosophical dimensions of post-life and existence, contemplating profound questions and examining their implications. By assembling a diverse audience of academic researchers, professionals, and government and industry representatives, our conference aims to foster stimulating discussions, facilitate knowledge sharing, and promote collaborations that contribute to the betterment of our communities.
Some of the Speaker's expected to deliver research, findings and innovate ideas are:
Kgosi Thabo Milton Seatlholo: Chairperson of the National House of Traditional and Khoi-San Leaders, passionate advocate for rural community development.
Nada Laurie: Master's in Sociology, specializes in researching place attachment and factors influencing decisions related to body disposal options after death.
Wayne Van As: Area Manager for the Southern African region at FamilySearch International.
Vusi Skosana: Director in the unit of Integrated Environmental Authorisations at the Department of Forestry, Fisheries, and the Environment.
Prof. Timothy A Fasheun: Esteemed environmental scientist and consultant.
Dr. Julie Rugg: Reader in Social Policy at the University of York, UK, specializing in housing policy analysis and the history of disposing the dead.
Delegates can look forward to:
An array of presentations: Participants will have the opportunity to showcase their research findings, innovative ideas, and practical experiences related to the afterlife, contributing to a deeper understanding of this fascinating subject.
Panel Discussions: Engage in constructive dialogues and exchange diverse perspectives with a panel of experts and fellow attendees. Explore the philosophical aspects surrounding post-life and existence, fostering enlightening conversations.
Networking Opportunities: Connect with like-minded professionals during dedicated networking breaks and social events. Forge new alliances, share knowledge, and learn best practices from individuals passionate about improving our communities.
We invite you to be a part of this extraordinary event. Register now to secure your place at "Post Life… What Remains" and contribute to the collective understanding of post-life's impact and philosophy.
For more information and to register, Email: admin@sa-cca.org.za, Website: https://sa-cca.org.za/. We eagerly await your participation in this intellectually invigorating conference.