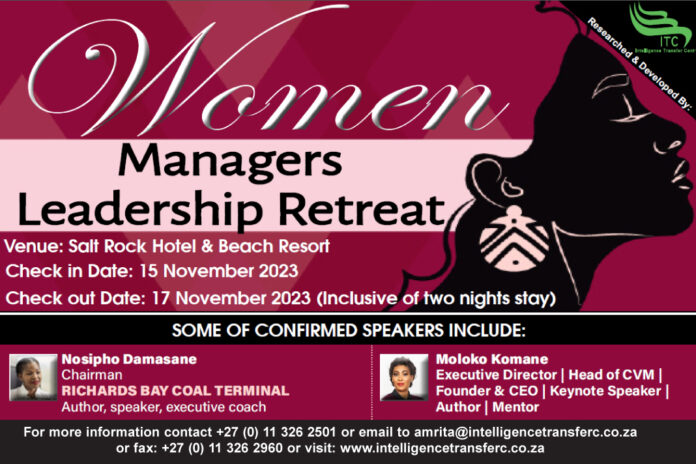 Intelligence Transfer Centre (ITC) will be hosting the Women Managers Leadership Retreat set to take place on 15th, 16th & 17th November 2023 at The Salt Rock Hotel & Beach Resort, Durban. 
This three-day conference objective is to engage on leadership in a holistic manner including mind, body and soul. With the year coming to a close it is vital to allow time to reflect, plan for the year ahead while also taking time out to recharge.
Emphasis will be on social and wellness issues that plague women and society on a daily basis, solutions and tools will be discussed at the conference.
Confirmed speakers include:
Nosipho Damasane, (Author, speaker, executive coach) Chairman – RICHARDS BAY COAL TERMINAL;
Moloko Komane, Executive Director | Head of CVM | Founder & CEO | Keynote Speaker | Author | Mentor;
Thandeka Nene, CEO – BUONO GROUP (PTY) LTD; Capt.
Londy Ngcobo, Ship Navigator | Africa's First Female Dredge Master | Founder of Global Maritime Youth;
Winile Mothsoane, Director of Public Sector – BIOKINETICS ASSOCIATION OF SOUTH AFRICA (BASA);
Milisa Kentane (Cert. Dir.) (CPRP), Group Manager: Strategic Communication- COUNCIL FOR SCIENTIFIC AND INDUSTRIAL RESEARCH (CSIR);
Refilwe Mongale, Human Resources Specialist|Wellness Coordinator |Content Creator| Women and Youth empowerment Advocate | Purpose Coach| Founder- REFESEDI TRUE TASK
The coaching sessions will focus on exploring Leadership Styles for Women Introduction, relationship between physical health and mental health, success factors for women leaders (especially in male dominated industries), brand alignment, personal branding for women in leadership and wealth creation for financial wellness
All delegates will take part in wellness consultations, yoga, spa treatments a half day survivor challenge, gala dinner and horse riding on the beach.
To register for the conference contact Amrita on 0113262501, e-mail amrita@intelligencetransferc.co.za or visit www.intelligencetransferc.co.za
---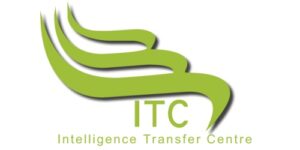 Intelligence Transfer Centre (ITC) is a leading South African conferencing and training company headquartered in Johannesburg, and has regional offices in Durban and Namibia, with the key function of offering thoroughly researched conferences for various industries.
ITC started its operations 2007 and executes over 42 conferences and workshops annually, both local and international. ITC is MICT SETA accredited and a level 1 B-BBEE company which believes in closing the knowledge gap across the Public and Private sector through creating platforms for people to gather and exchange ideas in the form of conferences or in-house training. The organisation prides itself on sharing international best practices and every conference connects delegates with international leaders and leading brands within their respective markets.
Our events present your brand with the opportunity to access your direct target market and to interact with industry professionals. We understand the importance of lead generation and our conferences will bring you a host of compatible customers in your journey of building brand loyalty.