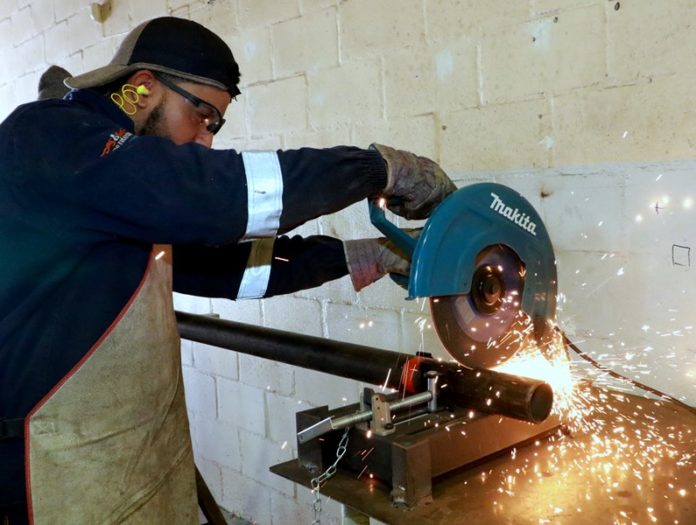 AR Jones Engineering is an engineering services company, founded in 2016 and located in the Marias Industrial area of Vredenburg in the Western Cape. We provide engineering solutions and equipment to a diverse range of sectors, including the steel, oil & gas and maritime industries, and to municipalities in South Africa.
We have a fully equipped workshop for all types of welding and sheet metal work. We specialize in stainless steel, aluminium, carbon steel and bracing welding, while on the sheet metal side we do all types of developments & complicated ducting works. Our equipment allows us to offer a bending & cutting service direct to the public, along with cut-to-size plates, pipes, and channels.
AR Jones Engineering specialises in the maintenance and repair of heavy-duty industrial equipment across sectors, and source and supply premium OEM pumps and valves. Our clients include companies such as Sea Harvest, Pioneer Foods, AMSA, ARMSCOR, and the local municipality.
Our workforce includes industrial and engineering specialists, boilermakers, pipe fitters, mechanical fitters, welders and semi-skilled workers. We currently employ around 20 people from the local community and our workforce include skilled female artisans.
The capability, dedication and commitment of our people ensure that we always deliver the highest quality service to our customers.
With Covid-19, we saw that the market changes constantly and rapidly – you therefore need to be able to adjust at an equal or faster pace to survive.
Over the years we've learned that you constantly need to market the business, and that you need to employ the right people in your business in order to grow your customer base. Fortunately we've managed to diversify our client based and have secured sales from the maritime sector as well as the food industry, with clients such as Sea Harvest and Pioneer Foods.
Our business success also resulted in recognition from the DTI, in collaboration with GIZ of Germany, and I was selected for a Manager Training Programme. The training was held in Cologne, Germany from 28 October until 22 November 2019. After the intense four week training, we received a certificate that stated that my company is fit for partnership with German companies. We learned a lot from the German companies during our plant visits, and gained a deeper understanding of the German culture. This training also gave me additional business tools that I have implemented in the business.
The lockdown caused almost all companies to stop production and employees had to work from home, all except the essential services. Fortunately we are a service provider for the food industry and could continue production during lockdown, although in a lower capacity. We were very lucky that we could secure orders just before the lockdown, assisting our client in the maritime industry with ship repair work.
The biggest challenge for us was the financial impact on the business – we could not cover all our overheads and suffered financial losses. Our strategy was to at least keep the business running to ensure we survive the 'storm'. We overcame this challenge by ensuring that we improve our efficiency, by getting the job done in the least amount of time and with limited resources.
We managed to apply successfully for the TERS benefit to ensure our team could get some income to sustain their families.
Our team members' support during this time and their intrinsic sense of accountability ensured that we could overcome the challenge. I would like to acknowledge the excellent work done by Terrence Lutchmana, who is responsible for the day-to-day operation of the business. His dedication to the company is of immeasurable value. And the team that reports directly to him contributed hugely to our survival.
During the lockdown we struggled to complete some of our orders due to company closures of our suppliers. This led us to identifying new machines we would need in our workshop. We decided to purchase a bending machine and guillotine machine, which enabled us to cut and bend plates of up to 6 mm. The results were that we attracted new business and having our own machines also ensured that we reduced project costs.
The machines now enable us to train boilermakers and to provide them with onsite working experience endorsed by MERSETA (Manufacturing, Engineering and Related Services SETA). Hopefully we will be able to take in apprentices in the future.
The biggest lesson we learned from this pandemic is that you need the right people in the right position in your business to be successful.
The second lesson is that you can never become complacent and assume that everything will run as before. The business environment is constantly and rapidly changing. You therefore always need to find innovative ideas to improve your business.
By Antonio Jones, Managing Director, AR Jones Engineering