In 2019 the Uitenhage plant of Volkswagen Group South Africa created a new production record of 161 954 vehicles, with 108 422 destined for the export market. Sales for the group were also good, with 29 619 new Polo Vivos purchased in the year.
Mercedes-Benz and Volkswagen are breaking records.
Mercedes-Benz consistently breaks records for the number of cars it exports through the Port of East London via Transnet Port Terminals. The company is spending about R10-billion to prepare its plant to manufacture the new C-Class. The plant will also become an IT Hub with a focus on data analytics, software development and business analysis. About 90 new jobs will be created.
Home-grown manufacturer of powertrain and catalytic converter assembly systems, Jendamark, pictured below, continues to expand. With operations in Germany and India, the company exports to 18 countries.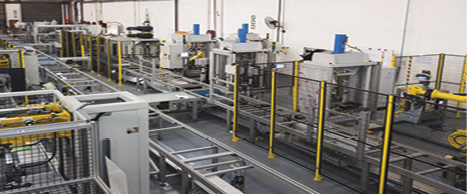 Continental Tyre South Africa is producing a 19-inch tyre for the first time at its New Brighton facility in Port Elizabeth.
The growing sport utility vehicle sector is increasing demand for these tyres, which previously had to be imported. Isuzu SA has completed its consolidation project, with truck and bakkie manufacturing now taking place at its new headquarters in Struandale, Port Elizabeth.
Phase 1 in the construction process of the vehicle assembly plant of Beijing Automotive Group South Africa (BAIC SA) is complete. The total project involves an investment of R11-billion. BAIC expects to be building 50 000 vehicles per year at its site at Coega SEZ by 2022.
Assembly systems manufacturer Jendamark has expanded to India and Germany.
The provincial government aims for more diversification in manufacturing and is targeting sectors where the province already has a competitive advantage (such as wool and mohair), is labour intensive, will have a broad impact and has low barriers for SMME entry. Sectors targeted include: agri-processing and food; timber; tourism; construction; chemicals; energy and mariculture.
First National Battery, a Metair Group company, has one factory at Fort Jackson (plastic components) and two factories in East London, one for automotive batteries, the other for industrial batteries.
Mpact runs two corrugated packaging convertor facilities in the Eastern Cape, at Deal Party in Port Elizabeth and Gately Township, East London. The company recently spent R150-million on doubling capacity at the Port Elizabeth plant.
Bodene, a subsidiary of Fresenius Kabi, makes intra-venous medicine in Port Elizabeth. East London hosts Johnson & Johnson's finance, operations and research and development divisions.
Aspen Pharmacare's R1-billion specialised product facility at Port Elizabeth will add 500 jobs to the existing staff of 2 000. The new plant will make products for chronic conditions. Annual production of about 3.6-billion tablets is planned.
Sector Resources: