The attendance of trade and business delegations led by the BRICS countries at the 5th Eastern Cape Export Symposium on August 17 and 18 at the East London ICC, will result in path-breaking global attention for the region.
The initiative, which includes a two-day conference, exhibition and match-making meetings, will be attended by global trade role-players, including the Secretary General of The African Continental Free Trade Agreement (AfCFTA), His Excellency Wamkele Mene.
Economic representatives from South Africa's pan-African trading partners, the EU, UK and USA will also be present, in addition to an Inward Buying Delegation, comprising delegates from Brazil, Russia, India and China.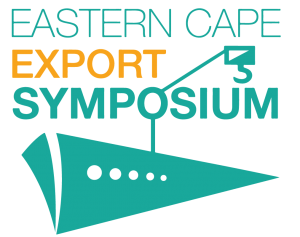 The two-day conference includes global policy-makers and local commentators addressing developments and opportunities in South Africa's key trade agreements including BRICS, AGOA, AfCFTA and EU trade. Invited international speakers include, HE Mene, Prof Melaku Desta, Coordinator Africa Trade Policy Centre at UN Economic Commission for Africa (UNECA) and Roberto Cecutti, Head of Trade and Economics for EU Delegation in South Africa, among others.
National invited speakers include CEO of the E-commerce Forum South Africa, Alistair Tempest; CEO & Founder Landator (Pty)Ltd, Byron Moorgas; Manager, Government Affairs & Public Policy for Google Sipho Mtombeni; Head of Policy at Centre for Risk Analysis, Chris Hattingh; Corban Thomson, Lead Project Manager, International Trade Institute of Southern Africa; Shamiso Hlatshwayo, Acting GM Research, Brand South Africa, and Francois Fouche, economist and research fellow at The Centre for African Management & Markets at the Gordon Institute of Business Science.
The program also focusses on export resources available to grow local business and opportunities in specific sectors of the economy including Renewable Energy and trade in environmental services, including sustainable manufacturing and the circular economy.
The global drive towards reducing greenhouse gas emissions, the increased availability of green finance, and the associated ambitions of firms and governments to improve their environmental performance are boosting the demand for quality environmental goods and services. It is also creating new markets for recycled materials and products relating to the management of waste and the circular economy.
The session, facilitated by South African Electrotechnical Export Council, CEO Chiboni Evans, includes Gaylor Montmasson-Clair Senior Economist & SAREM Facilitator, Trade & Industrial Policy Strategies (TIPS), Gareth Burley Business Development Executive, Microcare and Deshan Naidoo Managing Director of AQORA Manufacturing and Mining.
Around 50% of automotive exports from South Africa are produced in the Eastern Cape. An automotive panel discussion will therefore address the  promotion of Automotive Exports from the region and the role of both national and provincial government in dealing with global challenges, and optimising opportunities. Speakers include the AIDC EC's Hoosain Mahomed, Maritza Redinger of DSV, Sphiwe Mthembu, TNPA Port Manager of East London Port and Devlyn Naidoo, Executive: SARS AGO and South African Association of Freight Forwarders.
BioFibres will also have a focussed break-away given the potential of the sector to boost the Eastern Cape  economy. Panellists, including Brian Van Rooyen, Director at Labat Africa and Andy Radford Director of The Composites Group will discuss the sector and in particular the emerging Eastern Cape Biofibre facility in the Coega Special Economic Zone (SEZ) which targets undersupplied global market of biofibres and composites.
Capability for fibre processing, and non-woven composites, including hemp and flax to produce bio-composites, boosts government's strategic intent to create a future cannabis (hemp) industry, in line with the national draft master plan to commercialise South Africa's cannabis industry, which includes both dagga and hemp. The initiative will create 25 000 jobs and add 1% to the provincial gross domestic product of the Eastern Cape over the next five years. This facility will allow emerging manufacturers that intend to produce for export to locate on the SEZ and enjoy the SEZ benefits.
Agricultural exports will be deliberated by a wide panel of invited experts including Siphokazi Ndudane HOD: Eastern Cape Department of Rural Development and Agrarian Reform, Brent McNamara CEO, Agri Eastern Cape;  Alexander Toto , Team Leader EU-SADC EPA Support Programme; Marco Coetzee GM, Mohair South Africa  and Justin Chadwick CEO : Citrus Growers Association, among others.
ECDC CEO: Ayanda Wakaba said the symposium was aimed at developing new markets and partnerships for trade, citing "untapped potential for exports from the Eastern Cape". On the strong representation from BRICS, he notes that over 17% of South Africa's exports are to BRICS while 9% of its total imports are from BRICS.
"As Chair of BRICS in 2023, South Africa will pursue the potential for growing trade and investment, as well as intra-African trade and investment, while advancing the benefits of the African Continental Free Trade Agreement (AfCFTA), Wakaba said.
"The AfCFTA creates a predictable environment for investments by South Africa's BRICS partners, particularly in infrastructure development. South Africa will be looking at building a partnership between BRICS and Africa to unlock mutually beneficial opportunities for increased trade, investment and infrastructure development. BRICS institutions have a significant role to play here as major investment in infrastructure is required to operationalise the AfCFTA and to unlock the benefits of the Continental market," he said.
"Over the past decade there has been phenomenal acceleration of commercial and strategic engagements between BRICS and Africa. Indeed, BRICS has fostered Africa's economic emergence and highlighted the continent's global relevance,'' Wakaba notes.
On the Eastern Cape province specifically, the ECDC notes it is the country's biggest lemon producer, exports more than half of light vehicles produced in South Africa, has the largest percentage of the country's livestock, produces more than 15-million kilograms of wool a year and supplies more than half of the world's mohair.
"The attendance of local, national and international trade representatives provides a unique opportunity for the region to build relationships and showcase our export capability. It also importantly provides our export role-players with first-hand analysis and updates on the resources, incentives and opportunities for trade with new and existing trade partners,'' Wakaba said.  
"Specific focus is being placed on understanding the physical opportunities to capitalise on up-to-date supply chain shifts and trade agreement developments including AfCFTA, AGOA, BRICS and trade with the EU and UK, '' said Wakaba.  "As a result, the symposium program features a mix of experts and trade representatives addressing this.''
Under the theme: "Global Trade Developments: Opportunity knocks!" the Eastern Cape Export Symposium has the overarching objective to promote trade and supply networks (via access to markets (buyers), resources and current research).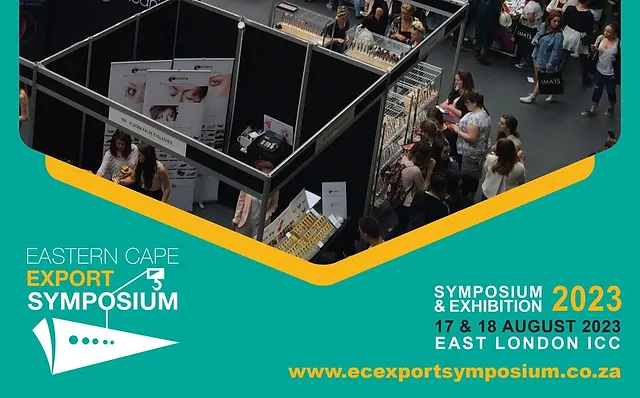 The 5th edition of the annual event is hosted by the Eastern Cape Development Corporation (ECDC) and partners Buffalo City Metro and Nelson Mandela Bay Metro will take place at the East London International Convention Centre on 17-18 August 2023.
The event – which includes an exhibition, conference, workshops, site tours, match-making and networking functions – will attract exporters and the wider export fraternity (cross sectoral) as well as policy-makers, including international visitors – with a focus on Africa.
Former Trade forward Southern Africa Director Rob Moodie, who was one of 26 presenters on the conference program in 2022 lauded the Eastern Cape Province and its business community: "It is marvellous to see the level of cooperation and working together that was demonstrated in this initiative. I haven't seen this level of collaboration in any other province in South Africa,'' he said.
Kenya-based Sub-Saharan Chamber of Trade CEO Claire Dawai described the conference sessions as "mind-blowing". "It is a great experience to have come to South Africa for the first time for this event. I am passionate about the agenda and forging mutual and long-lasting relationships that have been initiated here.''
EC MEC DEDEAT Hon. Mlungisi Mvoko said opening trade in new markets was key with AFCFTA being a potential "game changer for Africa's economic development". "To this end we need to deepen partnerships with trade partners to realise the full potential.''
Registration to attend, free, as a conference and workshop delegate or exhibition visitor is open online at: www.ecexportsymposium.co.za
Plenary sessions will be streamed on the ECDC YouTube Channel: https://www.youtube.com/@ecdc-easterncapedevelopmen12
---