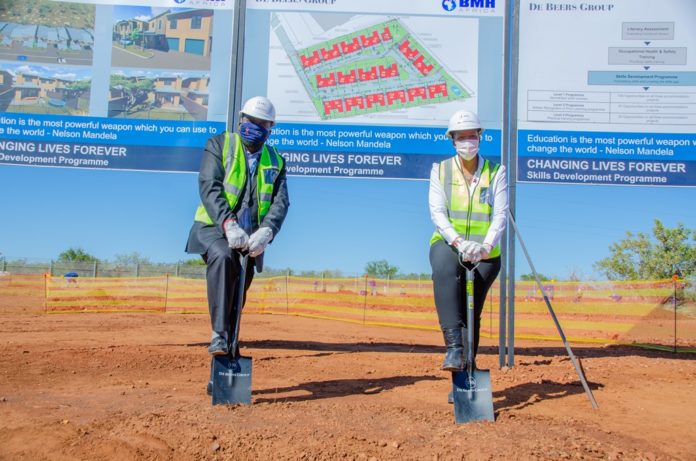 De Beers Venetia Mine, in partnership with contracting partner, BMH Africa, has launched a skills development programme, which aims to develop skills in the construction industry and ultimately enhance the local skills base.
The programme, which is part of De Beers Group's Socio-Economic Development strategy in Venetia Mine's host communities of Musina and Blouberg, aims to support skills development and job creation for 150 construction workers that will be employed on the mine's accommodation projects.
The programme, which will be implemented over a period of 24 months, is targeted at three skills levels:
Level 1 is a semi-skilled short course programme: aims to increase the resource pool of semiskilled construction workers by formalising their skills through the attendance of short skills courses and a formal skills assessment.
Level 2 is a semiskilled accredited programme: aims to assist construction workers with some form of previous training to complete the artisan trade test and qualify as an artisan in terms of South African legislation.
Level 3 is a practical training programme: provides an opportunity for existing TVET students to complete a portion of their practical training through employment at one of Venetia mine's accommodation projects. Some of these students may qualify to complete the artisan trade test
and qualify as an artisan.
Mpumi Zikalala, Managing Director of De Beers Group Managed Operations, said: "This project we are launching today [22 April 2021] highlights our commitment to development of our host community, with particular focus on the youth. What we recognise is the importance of working with our contractor partners to ensure that the projects we implement have scale and touches the lives of many of our host communities as possible.
"We are proud to have partners such as BMH Africa, who share our values and are committed to walking with us in shaping a better future for our host communities. This approach is very much in line with our Building Forever Framework, which is our commitment to create a positive legacy that will endure well beyond the recovery of our last diamond."
The skills development programme will also identify and train personnel in various construction skills. This will include a literacy assessment to determine the ability of prospective learners, occupational health and safety training where learners will obtain a firm understanding on how to achieve a Zero Harm mindset through safe working procedures and the transfer and formalisation of construction skills.
Councillor Jeremiah Khunwana, Acting Mayor of Musina Local Municipality, said: "The good news for our people is that the construction of the accommodation project will also provide job opportunities and the development of skills to the locals. This will help our people, especially the youth, to become independent and be able to stand on their own after the project is completed. Let me take this opportunity to thanks De Beers Venetia Mine for their contributions in developing our municipality through their social and labour plan. Musina is now a fully-fledged town because of your kind assistance."
Through this project, construction workers, who are mostly young people, will be equipped with skills and a verifiable record of training and employment. This will allow them to apply for future job opportunities on other projects at the Venetia Mine or in other sectors.
Christoff Pretorius, Project Manager of BMH Africa, said: "It is not often that a construction company gets to be involved in such an extensive skills development programme that will change lives forever. It is a privilege for us to be involved in this programme with De Beers Group and our various service providers."
Through its Socio-Economic Development strategy, Venetia Mine is also implementing a number of key projects in the Blouberg area, where commercial farming plays a critical role in providing employment and entrepreneurial opportunities for many local farmers. The mine is investing R6.5-million in agricultural projects, namely; Eldorado Crop Farm, Gemarke Chilli Farm and Driekoppies Peanut Butter Factory.
Other Social and Labour Plan (SLP) projects amounting to a spend of R15.5 million and being implemented in our host communities of Blouberg and Musina include amongst others, the Education Schools Programme targeting 25 schools in Musina and Blouberg, Alldays Road Paving, Construction of the Taaiboschgroet Community Hall, Development of the Alldays Sports Complex and the Alldays Pump Station.
De Beers Group is committed to supporting the economic development of its host communities. Our SLP is an important element of this and we believe that partnerships with municipalities are key to delivering meaningful and sustainable benefits in education, infrastructure, as well as economic opportunities through farming.